Welcome to Wise Men Wednesday, your weekly dose of timeless wisdom to thrive both at work and at home.
Posts from this week:
It took you years, possibly decades, to get to the top of your field. And now that you've reached the peak and look to your left and to your right you quickly discover… It can be quite lonely at the top.
It's difficult to figure out who you can trust because it seems like whenever you confide in a team member the story gets out and ends up doing more damage than good. You don't want to vent to your family anymore because you're already spending the majority of your time at the office. You feel the weight of your entire company on your shoulders and it's hard for you to stay positive.
There's just not enough hours in the day.
How do you figure out who you can trust with sensitive information?
Who do you go to if you're avoiding sharing your woes with your family?
In today's post, I share practical tips to help you leave your work in your car at the end of the day and why this is important. You'll learn you're always on stage and I will give you the tools to be an excellent example.
Are you ready to shine in the spotlight?
Podcasts from this week: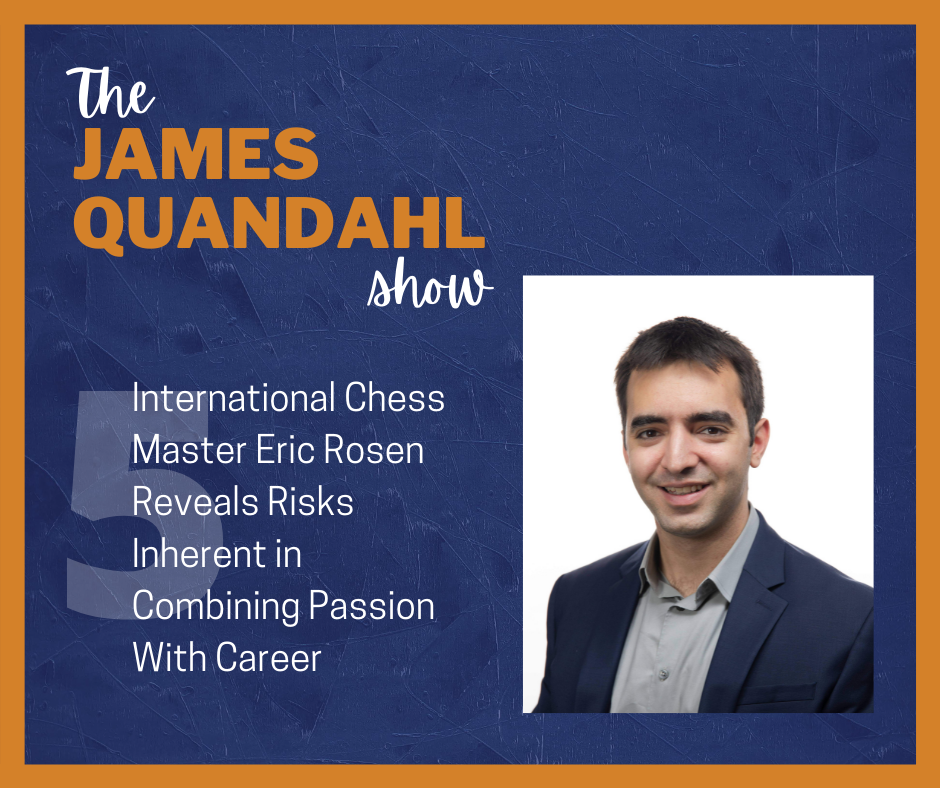 Eric Rosen is an International Chess Master who was born Sept. 3, 1993 and grew up in Skokie, Illinois. Eric's older brother Alex taught him to play chess in the summer of 2001 at the age of 7, while they were on a family vacation at the Atlantis Resort in the Bahamas. He competed in his first tournament at age 8. By age 9, he won the Illinois 3rd Grade State Championship.
He graduated from Niles North High School in 2012, where he led his chess team to two state championships, won the U.S. K12 Championship during his junior year, was voted homecoming king his senior year and was a featured subject in the documentary Chess State, which chronicled high school chess in Illinois. He earned his Fide Master Title in 2011, and his International Master Title in 2015.
Over the years, Eric has worked with a number of coaches who helped him tremendously. These include Tamara Golovey, GM Dmitry Gurevich, GM Yury Shulman, and GM Mesgen Amanov.
After graduating from Webster, Eric focused on teaching chess and on a number of creative freelance projects, all while traveling the world and competing in chess tournaments. In 2017, he also established a Twitch Channel and began creating more regular content for his YouTube Channel, which he established in 2013.
In my conversation with Eric Rosen, you'll discover:
-Is chess a sport?…01:10
-How both victory and defeat is short-lived in chess…05:05
-How a chess master answers the question, "What do you do for a living?"…12:40
-Where does the chess industry go from here?…17:50
-Risks inherent with combining your passion with your career path…26:14
-Knowing when to say "no" to opportunities…34:05
-How top chess players train their bodies and minds…45:20
-Is there a "ceiling" of achievement if you begin playing chess later in life?…54:22
-What's next in Eric's life, chess and non-chess…1:00:15
-And much, much more!
Words of wisdom:
"You are not a fan. You are a player only. You are going to be a peer of your heroes, and you have to act like it starting right now. Players only beyond this point. Does it sound like hard work? Good, because it is. Don't try to fool yourself that this will be easy. It won't be. It's years of hard work if you're doing it correctly. But players don't complain. Does that sound like your life right now?
Bo Eason, There's No Plan B For Your A-Game
Have a great rest of the week!
James Quandahl