I walked out my front door and onto the screened in porch, put on my shoes, and headed out on my daily afternoon walk. My neighborhood Bible study was studying a book about the Spirit written by Francis Chan titled, Forgotten God. My ears were attuned to listening to the Spirit's call for me and I felt a divine encouragement to take a different route than typical. Most days I wouldn't have noticed this encouragement and if I did I would have ignored it, but this day was different. This day I felt the Spirit's prodding and listened. I made a left at the corner instead of a right and walked towards a neighbor's house.
It wasn't clear at first why I needed to head in this direction, but when I approached my neighbor's house from the sidewalk his door opened and he came out onto his porch and wanted to chat. It was clear that he was lonely and needed comfort.
My neighbor told me he recently had a heart attack and woke up on the floor. He said he wasn't sure if anyone would have noticed him missing for a few days.
He was scheduled to go to the hospital for a procedure and needed a ride.
I said yes.
I said yes to keeping my neighbor company and to driving him to the hospital. But I also said yes to the Holy Spirit and His task for me.
It wasn't obvious at the time, but the Holy Spirit encouraged me to turn left instead of right because He knew my neighbor was lonely and needed someone to comfort him. Instead of ignoring His call I was obedient and formed a friendship with my neighbor.
"What no eye has seen, what no ear has heard, and what no human mind has conceived" the things God has prepared for those who love Him— these are the things God has revealed to us by His Spirit."

1 Corinthians 2:9
Do you listen to His quiet, but powerful voice?
Or are you like me and often tune Him out preferring instead to work, listen to music and podcasts, read books, watch TV, and join zoom meetings to distract you from ever really hearing Him.
I often think… What if He asks me to do something I don't want to do?
God doesn't need more followers that say the right words in a Bible study, quietly sing songs at worship on Sunday morning, and know the genealogy of Jesus by heart.
He needs more followers that will obey His command.
We don't have a problem with knowledge, we have a problem with obedience.
How many Bible studies do you need to attend to understand God's command for you?
We spend so much time accumulating Bible knowledge that we don't have any time left for kingdom obedience.
What is stopping you from reaching God?
This quote from Howard Thurman's book, Disciplines of the Spirit answers this question well:
"In Christianity there is ever the central, inescapable demand of surrender. The assumption is that this is well within the power of the individual. If the power is lacking, every effort must be put forth to find out what the hindrance is. No exception is permissible. "If the eye is a hindrance, pluck it out… if the arm is a hindrance, cut it off." Whatever stands in the way of the complete and full surrender, we must search it out and remove it. If a bad relationship is a hindrance, one must clean it up. In other words, whatever roadblock appear, the individual must remove them. The yielding of the very nerve center of one's consent is a private, personal act in which the human being, as sovereign, says "Yes." The ability to do this, to say "Yes," is not the result of any special talent, gift, or endowment. It is not the product of any particular status due to birth, social definition, race, or national origin. It is not a power one can exercise only if given the right by one's fellows. It is not contingent upon wealth or poverty, sickness or health, creed or absence of creed. No, the demand is direct and simple: Surrender your inner consent to God— this is your sovereign right— this is your birthright privilege. And a man can do it directly in his own name. For this he needs no special sponsorship. He yields his heart to God and in so doing experiences for the first time a sense of coming home and of being at home."
Where do you hear the voice of God?
I hear His voice in the still and silent time I spend in solitude. When I'm paying attention to what is happening around me and have my heart, mind, and eyes wide open. This happens in the morning when I leave my phone at home and take a slow walk. Pausing to admire the beauty of the sun's shimmering reflection on the pond that is smooth as glass with the Spanish moss swinging from the old oaks framing my vision. Or when watching the bright red cardinals hopping merrily from branch to branch singing their morning tunes without a care in the world.
The Spirit is absent on the walks I take with the latest podcasts in my headphones, when I am looking down at my Garmin watch to make sure I reach my daily 15,000 steps, and completing 20 squats every other block.
How can we worship the Lord if we never spend time with Him?
John 4:23 & 24 says, "Yet a time is coming and has now come when the true worshipers will worship the Father in the Spirit and in truth, for they are the kind of worshipers the Father seeks. God is spirit, and his worshipers must worship in the Spirit and in truth."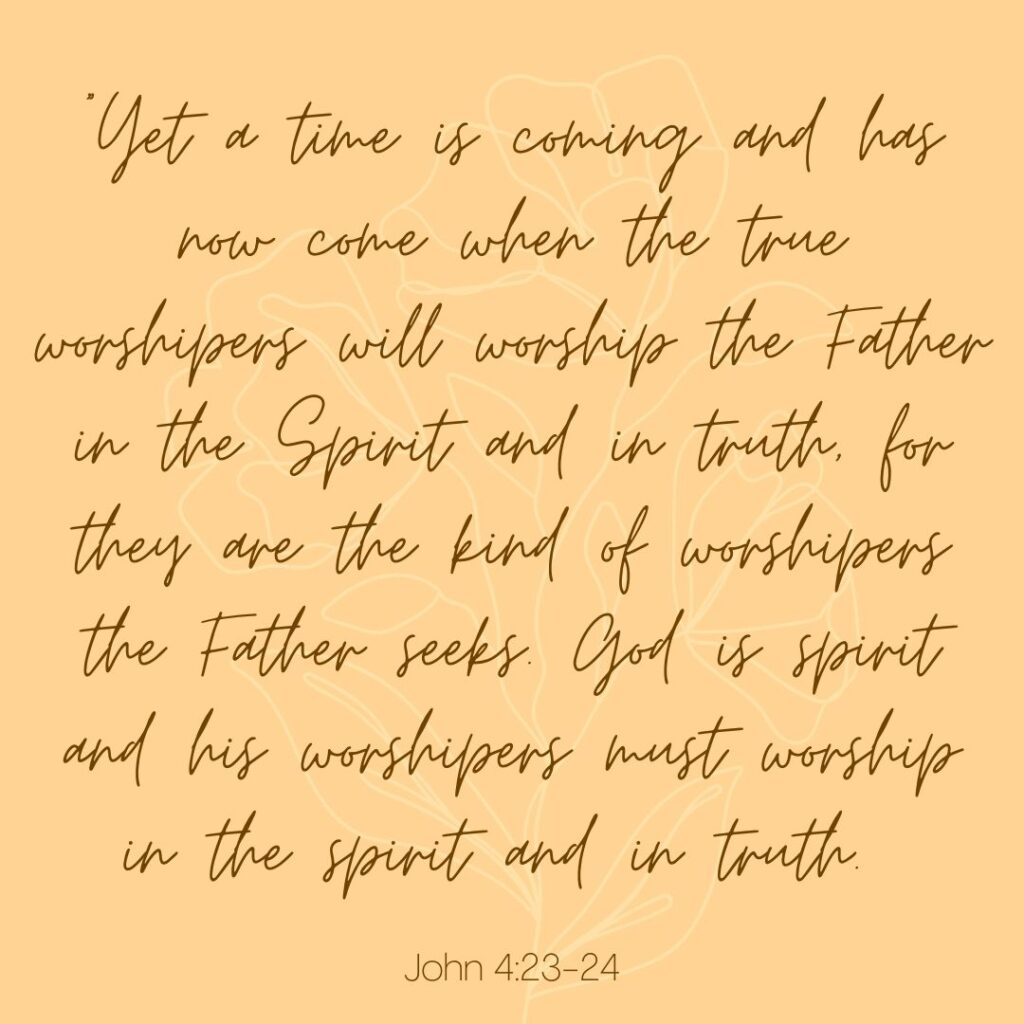 R. Kent Hughes shares in his book Disciplines of a Godly Man: "Worship is what God wants from you and from me. Jesus hallowed and substantiated this in His chiding of busy, frenetic Martha, who was so critical of her sister's sitting at Jesus' feet: "Martha, Martha… you are so worried and upset about many things, but only one thing is needed. Mary has chosen what is better, and it will not be taken away from her: (Luke 10:41, 42) A look at the massive emphasis on worship in the Old Testament reveals God's mind on worship's priority. Exodus devotes twenty-five chapters to the construction of the Tabernacle, the locus of divine worship. Leviticus amounts to a twenty-seven chapter liturgical manual. And the Psalms are a spectacular 150-chapter worship hymnal. Divine worship has always been the occupation and sustenance, the priority of the believing soul."
Men, we must put down our phones and be present with the Lord.
He wants to spend time with you, He wants to know you, and He wants to hear all about your day. He loves you exactly as you are, right now, without any reservations.
If Jesus came by for dinner you would reschedule your meetings, turn off the TV, stop worrying about your office, and be completely present. If He said, "Son, I have a very important task for you. Will you please help me out and complete it?" You would drop everything and obey. Without any questions, without any hesitation, and without a single complaint.
Jesus is always with us at dinner. He is with us at all times and continually gives us commands. It's just hard to hear them over the loud and distracting world we live in.
What about you? When do you hear God's voice? Please answer in the comments below. I read them all.
"The gift of piety or reverence means that we come before God with humility. God gives us the gift of piety so we can approach God more purely. What does it mean to live a life of piety? It means that I live a life where God's Spirit lives inside of me and people can see that. I am living God's will in my daily life. You need to ask, "What do You want me to do today, Jesus?" Then you need to say, "I will do it. Give me Your command. Make me obey You." When you can do that, you are no longer living by your power, but by the power of God. That is piety."

Be a Man!, by Father Richards
---
Feature image courtesy of Derick McKinney.